Green Open at Kinsale Tennis Club
Transition Town Kinsale and Plastic Free Kinsale are working with Kinsale Tennis Club to run the First Green Tennis Open in Ireland; with funding from the VOICE Recycling Ambassador Programme.
Kinsale Tennis Club – Our Green Open – Saturday 26th May to Sunday 3rd June
 Kinsale Tennis Club (KTC) decided to run their annual Open as a Green Event after Plastic Free Kinsale, a community initiative to help reduce plastics and encourage correct recycling, approached them to make changes in how their club handled waste.  KTC hopes to raise awareness among our own members and the Open attendees about the changes we can all make to reduce our carbon footprint and be more sustainable while still enjoying an excellent tennis Open.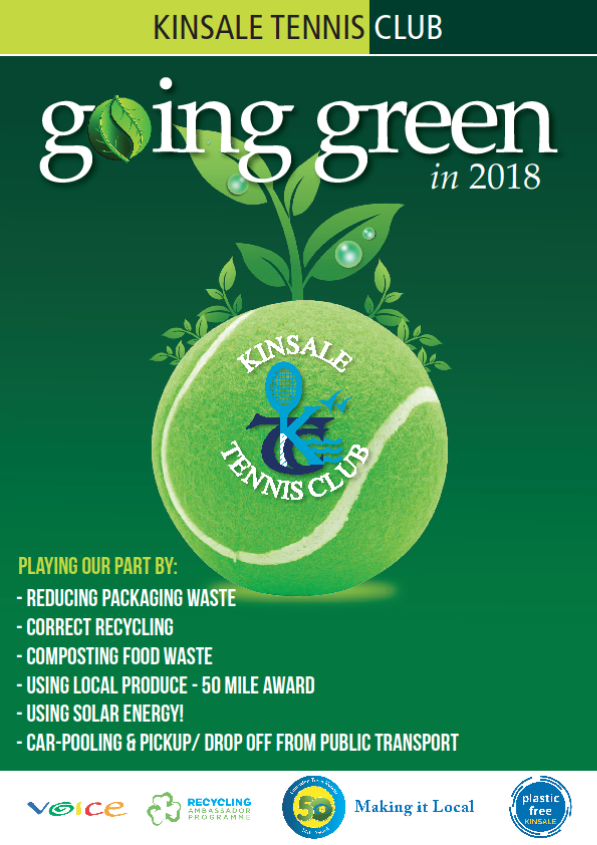 The Tennis
Reduce paper; registration etc. will be done electronically as much as possible.
Buy tennis balls in bulk and reuse old plastic containers.
The Food
Local produce will be used where possible and highlighted with Transition Town Kinsale's 50 Mile Award.
KTC are delighted that the local restaurateurs will be providing the dinners for each evening once again.
KTC already uses crockery and cutlery during the Open but does sell a lot of plastic bottles of water at the event so it was decided to target this. Water (and cordials) will be available at the clubhouse and attendees will be asked to bring their own reusable bottles that can be filled on site. Reusable bottles will also be available to borrow or purchase.
Food which is likely to become food waste the next day will offered to those there at the end of each evening.
Our Waste
KTC aims to first reduce our waste at the Open by avoiding packaging.
KTC aims to achieve 100% correct recycling. To do this four bins with clear visuals as to what can go in each one will be provided. The Green Team will also be available to answer any queries.

Recycling bin – all recycling must be clean & dry
Food waste bin – small one in the Kitchen and large one outside
Glass bin – bottles rinsed
Waste bin – for everything else and we hope much reduced from last year.
The Energy we use
Solar chargers will be available on the day to charge phones etc.
And KTC will be highlighting the small changes they are making in the clubhouse to reduce energy consumption.
How we get there
Attendees will be encouraged to car-pool and those who travel four in a car will be invited to enter a raffle.
Lifts to and from the Cork Bus can also be organised so that attendees can avail of public transport. This needs to be booked 24hours in advance.
Inspire Sustainability
Plastic Free Kinsale and Transition Town Kinsale will be highlighting their local sustainability initiatives throughout the week and the Green Team will be available for any queries attendees may have.
KTC acknowledges and appreciates the funding received from the
Voice Recycling Programme to run this green event.