Spring Clean
Over the past number of years TTK has taken part in An Taisce's Spring Clean with Kinsale Tidy Towns and in 2012  at the instigation of Paul Browne, student of Permaculture/Practical Sustainability at Kinsale College, a band of determined and conscientious volunteers consisting of college students, TTK members and Councillor Noel Harrington, arrived equipped with plastic gloves and rubbish bags to clean up as much of Scilly Bog and Woods as possible. After a vigorous 3 hours' work they has amassed over 25 sacks full of rubbish.
Not content to rest on his laurels, Paul then proceeded into the harbour where ankle-deep in mud he retrieved a supermarket trolley, a traffic cone and a large carpet!
The initiative was carried out in conjunction with An Taisce's National Spring Clean 2012 and and many thanks to them for providing the gloves and sacks. The Town Council collected the rubbish afterwards to be disposed of safely. Congratulations to all concerned and especially to Paul Browne whose passion for a cleaner environment sparked off this event and has resulted in a much cleaner and safer public amenity.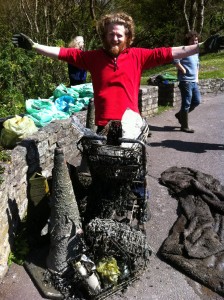 If you would like to instigate a Spring Clean initiative or any other let us know.