Spring Fair
An event we haven't held since 2012…but some great memories!

In 2012 our Spring Fair was part of the St Patrick's Day festivities in the town. Click here to watch the great film made by Blue Shed Productions or watch below!
Our Spring Fair in the Temperance Hall was a showcase of all of TTK's projects. Stalls included Allotments, Seed Swap, Cambium Edible Gardens, Kinsale Green Growers, Creating Good Compost, Local Exchange and Trading System (LETS), measuring your carbon footprint, local food, information on the anaerobic digester project, a massage therapist courtesy of the Health group, Ellen O'Shea, who had a wonderful array crafts made from recycled fabrics and a local food café. A treasure hunt took participants right across town in search of the Spirit of Kinsale and Caoimhe Hill's and Faye Murphy's Young Scientist Project was on display which illustrated people's attitudes to current and proposed environmental taxes. Janice and Dave provided music throughout the day.
Upstairs, there were workshops on using recycled materials to make things, Recycled Art for St. Patrick's Day (Rosita Kingston) and 'Paddify your Bike' (Dearbhail Connon). Said bikes were then taken out to form TTK's section in the parade. We had bikes, scooters, go-carts and rollerblades, four colourful dancers representing the four elements, one Captain Windass on stilts and an electric car, courtesy of Bill Liao, all adding splendour, entertainment and low-carbon transport to the parade.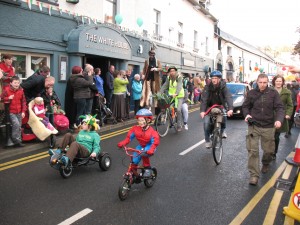 Springamagig 2012 was held in April in the beautiful, and continuously expanding, Kinsale College Amphitheatre. The evening opened with a performance by American Cork-based songwriter, Hank Wedel. Hank's wonderful songs, combined with his sense of humour, filled the Amphitheatre with a warm and friendly atmosphere, so we were off to a fine start. He was so thrilled to have been part of the show he offered to come back next year. Next up was a lady who lives in Eyries, Beara, but who was born in Kinsale. As a young girl she had attended the 'Tech' in Kinsale and this was her first time back there in 55 years. Mary Madison, storyteller, had the audience hooked with her fabulous tales full of character, sparkle and wit. Her sisters, who were in the audience had a field day winning a whole clatter of raffle prizes.
There followed a rip-roaring performance by rock and blues band, The Oxygen of Being, led by the groovy Duffy brothers, both students of the college Drama course. Snatch Comedy had the audience rolling with laughter as usual with their bizarre, baudy and brilliant improvisation pieces. To round off the evening were The Skylarks a band comprising students from the Drama and Permaculture courses and fronted by Breda Larkin. They had the audience singing along, dancing in the aisles and crying out for more. Refreshments, which included delicious freshly baked pizza from the outdoor oven, were served up in the outdoor kitchen and MC for the night was the delightful Yvonne Coughlan.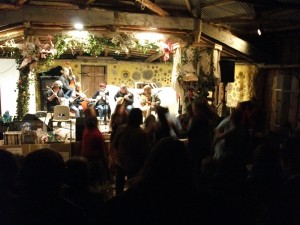 2011 marked our fifth Spring Fair and included information on everything you need to know to grow your own and on local green businesses, workshops and kids activities. Followed as always by the springamagig at the cordwood amphitheatre at Kinsale Further Education College. Watch it unfold here.