Education and Community Group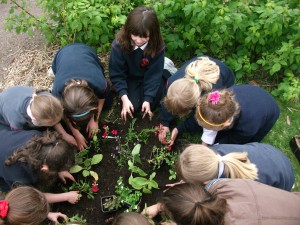 1. Education for Sustainability
The team of facilitators brings sustainability alive in a fun, practical and creative way in 5 local national schools. They work with an emphasis on student-centered, cross curricular, experiential learning. Their programme includes teaching about food production in gardens that the kids have helped to create.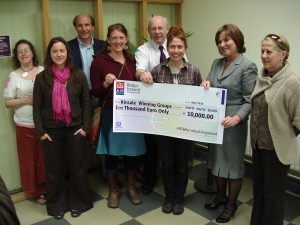 2. Community Awareness
Open Forum have included:
Can Kinsale Feed Itself?
The panel included Dr Colin Sage, Dept. Geography U.C.C., Michael Smith, Supervalu, Kinsale, Colin O'Regan, local organic farmer, Aimi Pinder, Kinsale Green Growers and Philip Ward, Kinsale College of Further Education.
'The Future of Money'
With Richard Douthwaite, economist and journalist and Frank Kruger Community Exchange Model
Nicole Foss.
Nicole is an energy industry consultant and financial analyst fromOntario,Canada
Creating a sustainable and resilient organisation that can continue to greater success in the future.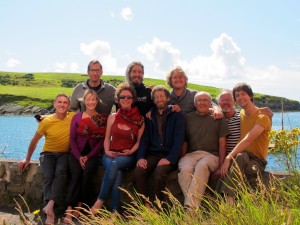 Walks and Talks – promoting biodiversity
Philip Ward, Ecologist – Woodland Walk
Richard O'Hanlon, Mycoloogist – Mushroom Forage
Ted Cooke, International Year of the Forest, protecting our roots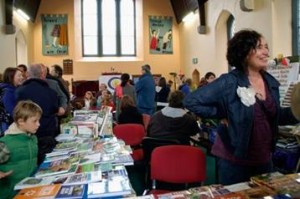 Community Events
On Saturday March 26th 2011 almost 300 people joined us at the Dock to mark Earth Hour and send out the simple message that we need to care for our planet. 100 eco-lanterns were launched by the community. March 2012 200 people joined us for a candlelit concert in St Multose Church where the testimonials of those already feeling the effect of climate change were read.
2011 marked our fifth Spring Fair. Information on everything you need to know to grow your own and on local green businesses, workshops and kids activities. Followed as always by the spring-a-ma-gig at the cordwood amphitheatre at Kinsale Further Education College. In 2012 our Spring Fair was part of the St Patrick's Day festivities in the town.
Following on from the success of the Picnic in the Community Orchard at Sáile in 2015, to celebrate Transition Town Kinsale's 10th Birthday, it was decided that another Harvest Picnic was in order in 2016. Once again there was amazing local food, music and good company and thankfully some fine autumn weather. Kieran Hayes from Transition Cork City set up his Apple Press and a small crew set to chopping and pressing the most delicious cocktail of local apple varieties. Apples were gleaned and donated, as the Orchard trees have another year or two to go before they become fully productive.  But the Orchard provided plenty of blackcurrants and raspberries throughout the summer. Big thanks also to the Scouts who planted beans, sweetpea etc. in their raised bed.
And in 2017 Kinsale celebrated Ecolise day with talks and workshops in Kinsale Community Orchard. There was a real community effort to ensure everyone was fed and watered at this community picnic. After the 'Fruit & Nut Tree Planting and Maintenance Workshop', with Thomas Riedmuller, Margaret Thuillier gave an account of the Community Orchard Harvest and John Thuillier presented a short history of the area. After the picnic, there was a tour of Kinsale College of Further Education, where Rob Hopkins and his students first came up with the Kinsale Energy Descent Action Plan, which led to the concept of Transition Towns and is now a global movement.
ECOLISE, the European network for community-led initiatives on climate change and sustainability, is a coalition of national and international networks of community-led initiatives on sustainability and climate change, as well as organisations that support a community-led transition to a resilient Europe. www.ecolise.eu
"Community-led action on sustainability and climate change was celebrated in 15 European countries this September! From the Balkans to the Baltic Sea and along the western fringe of Europe groups of pioneering people celebrated the first European Day of Sustainable Communities."
In 2018 we joined the SEAI Sustainable Energy Community Network and are actively working towards decarbonizing our area- we held public meetings in March 2018 and February 2019.  and worked with Kinsale Tennis Club to run the First Green Open in Ireland.
In 2019 we were delighted to wind the 'Most Topical' prize at the Patrick's Day Parade while we collaborated with Kinsale College in their Green Week.
Working with Made to Measure Films we ran Kinsale Youth Film Festival  during Kinsale Arts Weekend.
And we ran Kinsale Youth Film Festival as part of Kinsale Arts Weekend.
Current activities can be found under what's on and education.