Community Powerdown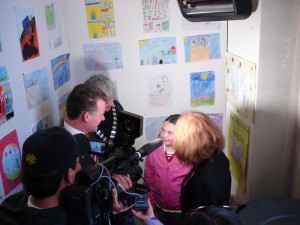 The Kinsale Community Power Down is about engaging the community in energy reduction in their homes and businesses.  It was launched at the TTK/ Tidy Towns Spring Fair in 2008 by Trevor Sargent TD, Minister for State at the Department of Agriculture, Food and Rural Development. Kathy Sinnott (MEP) and Mayor Mary Evans also attended. Tricia Kenny form Carbon Action Ireland gave a short presentation after the launch – "Carbon Footprint for Dummies".
Over 100 individuals signed up to make some change in how they use energy at Our Spring Fair in 2009 and we also surveyed 50 students from the Community School in Kinsale.
The Flyer produced highlighted what you could do and we held  information evenings over the two years as well as running an ad campaign to save energy in the community.
In March 2009 and again in 2012 we ran Open Space events to relook at Kinsale's Energy Descent Plan. This was an opportunity for Transition Town Kinsale to re-engage with members of the community and encourage participation in projects that will both increase the resilience and self-reliance of the community and help reduce its environmental impact.
TTK joined the Sustainable Energy Communities Network and attended their first network meeting  in Blackpool Community Centre in February 2018.