The Work That Reconnects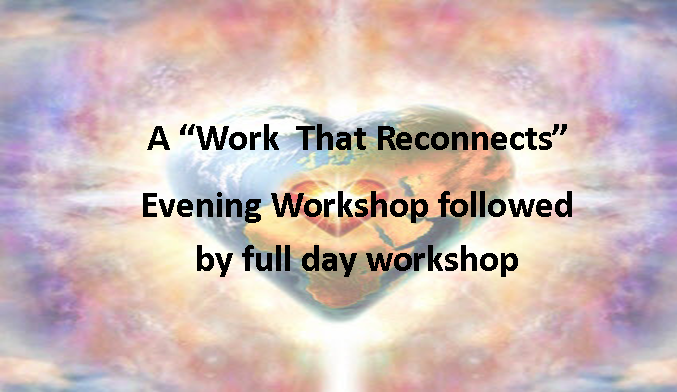 Evening workshop : Kinsale Friary Tue 3rd November 7pm
Day workshop Wed 4th November 10 – 4pm venue yet to be confirmed
We live in a time of a planetary crisis and opportunity Joanna Macy, the root teacher of the Work That Reconnects, refers to this as the Great Turning and describes it as "the essential adventure of our time: the shift from the industrial growth society to a life-sustaining civilization.
After 5 years of emailing back 'n fro with Anne Symens-Bucher Transition Town Kinsale are most fortunate and honoured to have Anne bring "The Work That Reconnects" to Kinsale. Anne has been co-facillitating and working with Joanna Macy for 10 years, Anne and her husband Terry and are the co-founders of a Farm community in Oakland, California, where she facilitates the Work That Reconnects with Joanna Macy & others.
In this evening event Anne Symens-Bucher will offer an introduction to the ideas and experiential practices central to "The Work That Reconnects" that has inspired many thousands of people to engage wholeheartedly in the Great Turning.
This work brings a new way of seeing the world as our larger living body, and frees us from the assumptions and attitudes that now threaten all life on Earth.
http://workthatreconnects.org/
Contact Jeannie 0861698661 to book & to confirm
attending a follow on workshop the next day
THESE WORKSHOPS ARE BY DONATION / SUGGESTED DONATION €5
Find us on facebook
https://www.facebook.com/TransitionTownKinsale?ref=bookmarks