Kinsale Youth Film Festival at KAW
Invitation to create and submit a short film.
Closing date is EXTENDED TO  Monday 7th July.
Screenings during KAW 18th-21st July 2019.
Find out more!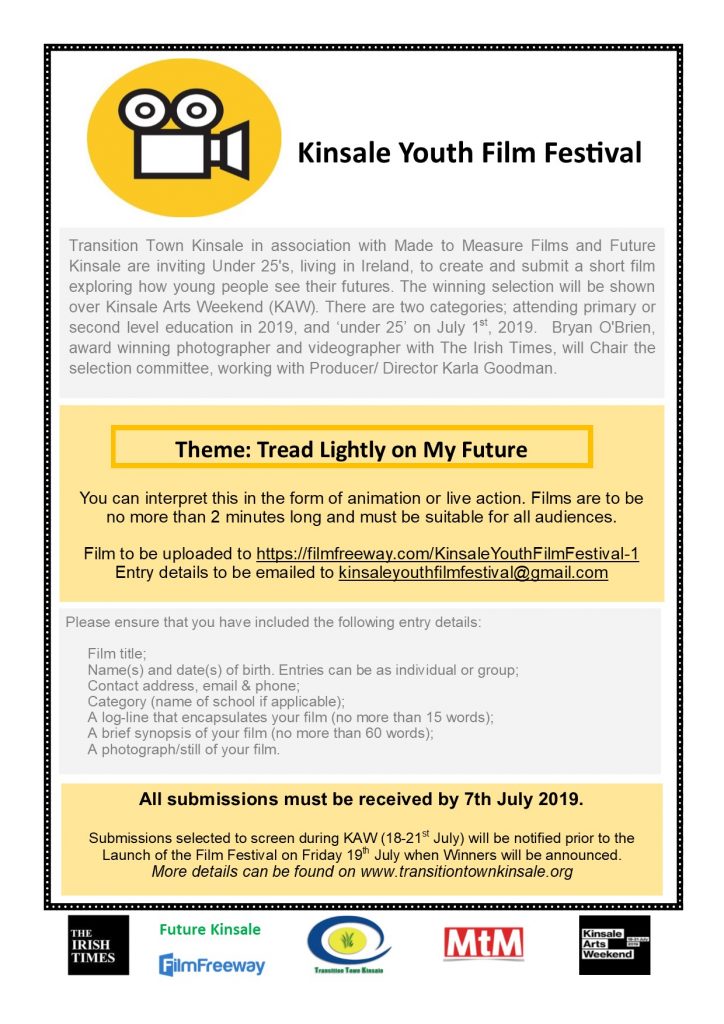 Further Details
Enquiries: Email kinsaleyouthfilmfestival@gmail.com
To Enter:  Upload film to https://filmfreeway.com/KinsaleYouthFilmFestival-1
• Sign up to FilmFreeway
• You must use link above as we are not publicly listed
• Fill out online information where applicable
• Upload your film
• You have to checkout – but it is free!
Please also email details to kinsaleyouthfilmfestival@gmail.com
• Film Title
• Name(s) and date(s) of birth.
• Entries can be as individual or group.
• Contact address, email & phone
• Category – Name of School if applicable
• A log-line that encapsulates your film (no more than 15 words)
• A brief synopsis of your film (no more than 60 words).
• A photograph/still of your film.
Categories:  There are two categories; attending primary or second level  education in 2019 and 'under 25' on July 1st, 2019.
Living in Ireland: Means the island of Ireland
Closing Date: Extended to 7th July 2019
Screenings: Kinsale Arts Weekend – July 2019
Friday 19th 7.00pm – 9.00pm
Sunday 21st 2.00pm – 5.00pm
Venue:  Kinsale Youth Cafe located
Film can be:
Piece to camera, presenter lead
Animation mixed with live action
Narrated footage
A personal account
A docu drama –
A story
A poem put to visuals
Other
Let the imagination roll
And make sure you have permission to film individuals who are in it.
Prizes Watch this space!
Terms & Conditions
No fees will be paid to screen these films. Submissions which have been selected to be screened will be advised by email prior to the Launch of the Film Festival on Friday 19th July, when the winners will be announced. The winners will be listed, and made available on the Transition Town Kinsale, Future Kinsale and Kinsale Arts Weekend websites and associated social media.
Use of commercial music is the responsibility of the filmmaker
We understand that for younger children some technical help may be required. If any help has been provided by an adult we would ask that the following be signed off:
I can confirm that this film has been creatively generated by ……………………………………………………… with technical assistance from ……………………………………………….
Signed:
Date:
A voluntary community initiative working to help make the transition from a dependency on fossil fuel to a low carbon future. Working towards a resilient, sustainable town and a Just Transition for all.
A community initiative to help plan for the next 20 years in Kinsale. The Future Kinsale Co-Op was launched on Wednesday May 1st 2019.
A professional video production company set up in 2014 to generate fun, unique and memorable videos, tailor made to the specifics of a business.
A unique festival and celebration of the arts in Kinsale. Taking place on the 18th – 21st of July 2019 the festival aims to bring together the rich pool of diverse creative talent in the local artistic community of Kinsale along with established and emerging artists from a national and international arena