Invitation to join the Kinsale (P17) community retrofit application 2021
Kinsale Community Energy Project are currently looking for property owners who would like to carry out an energy upgrade or retrofit during 2021 – we are nearing completion of our Energy Master Plan for the P17 area.
Since we are officially recognised by the SEAI as a Sustainable Energy Community – we will be appointing a dedicated Project Manger to oversee all work from the community grant application to the appointment of reputable contractors and discounted group purchasing power.
Funding will be available for renewable energy upgrades including deep retrofits, heating, hot water, insulation and energy efficient lighting.
Grants range from 35% for residential dwellings to 30% for businesses and 50% for community buildings. Those in receipt of social welfare allowances can avail of 80% in funding.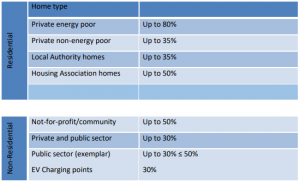 Isn't it worth it just to stay warm and even more worth it to know you're doing your bit for the planet and your community?
If you're interested please contact: 
kcepttk@gmail.com
 wit
h details of the age and type of property you own and the work you would like carried out. Single upgrade items will not qualify. In order to achieve the minimum BER rating of B2 – two or more upgrades may need to be carried out on your property.
Funding is limited for 2021 and will be allocated on a first come, first serve basis, however we do planon future roll over projects for 2022 and
beyond. Grant applications close soon so please contact us now to avoid disappointment.
Thanks from all the KCEP Team!